ANR CoSWoT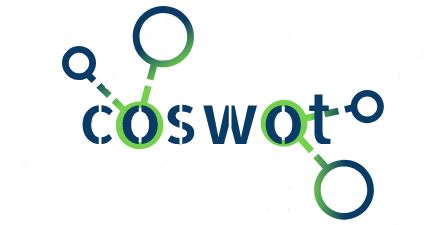 CoSWoT objec­tives are to pro­pose a dis­tri­bu­ted WoT‐​enabled soft­ware archi­tec­ture embed­ded on constrai­ned devices with two main cha­rac­te­ris­tics : (1) it will use onto­lo­gies to spe­ci­fy decla­ra­ti­ve­ly the appli­ca­tion logic of devices and the seman­tics of the exchan­ged mes­sages ; (2) it will add rea­so­ning func­tio­na­li­ties to devices, so as to dis­tri­bute pro­ces­sing tasks among them.
CoSWoT is led by Frédérique Laforest, INSA Lyon. Partners are INSA Lyon, MINES Saint‐​Étienne, INRAE, Mondeca
The Internet of Things connects phy­si­cal devices offe­ring sen­sing or actua­ting with their vici­ni­ty. The ever‐​growing capa­bi­li­ties of devices allow to ima­gine new archi­tec­tures inclu­ding them as first class citi­zens. New added‐​value appli­ca­tions can then be envi­sio­ned in smart agri­cul­ture, smart buil­dings, smart cities, ener­gy and water mana­ge­ment, e‑health and ageing well… The Web of Things (WoT) allows to des­cribe the devices seman­tics, brid­ging the gap bet­ween the dif­ferent domain and ser­vice des­crip­tions. In today WoT archi­tec­tures, phy­si­cal devices can be loca­ted at dis­tance from sys­tems that per­form rea­so­ning. A cen­tra­li­sed approach does not take advan­tage of the devices capa­bi­li­ties and induces subop­ti­mal data trans­fers as well as ser­ver over­load. Besides, many devices are now smart enough to dis­co­ver each other, exchange data, and col­lec­ti­ve­ly make deci­sions.
CoSWoT objec­tives are to pro­pose a dis­tri­bu­ted WoT‐​enabled soft­ware archi­tec­ture embed­ded on constrai­ned devices with two main cha­rac­te­ris­tics : (1) it will use onto­lo­gies to spe­ci­fy decla­ra­ti­ve­ly the appli­ca­tion logic of devices and the seman­tics of the exchan­ged mes­sages ; (2) it will add rea­so­ning func­tio­na­li­ties to devices, so as to dis­tri­bute pro­ces­sing tasks among them. Doing so, the deve­lop­ment of appli­ca­tions inclu­ding devices of the WoT will be high­ly sim­pli­fied : our plat­form will enable the deve­lop­ment and exe­cu­tion of intel­li­gent and decen­tra­li­sed smart WoT appli­ca­tions des­pite the hete­ro­ge­nei­ty of devices.
In CoSWoT, WoT appli­ca­tions will rely on a plat­form hos­ting the base ser­vices. Besides tra­di­tio­nal ser­vices, it will host exten­sions that cor­res­pond to two scien­ti­fic bar­riers :
(1) the use of onto­lo­gies as a gene­ra­li­sed model for exchanges bet­ween hete­ro­ge­neous devices. A joint sta­te­ment from AIOTI WG3, IEEE P2413, oneM2M, W3C posi­tions onto­lo­gies as key enablers for seman­tic inter­ope­ra­bi­li­ty on the WoT. However research ques­tions remain concer­ning (i) the ade­qua­tion of exis­ting onto­lo­gies to the tar­get appli­ca­tion domains ; (ii) the appli­ca­bi­li­ty of theo­re­ti­cal prin­ciples deve­lo­ped in a varie­ty of pro­to­cols and stan­dards, in the context of data streams ; (iii) the dis­co­ve­ry of hete­ro­ge­neous devices, their ser­vices and how to soli­cit them.
(2) dis­tri­bu­ted and embed­ded incre­men­tal rea­so­ning. Devices become power­ful enough to offer sto­rage and pro­ces­sing ; new archi­tec­tures appear, based on edge com­pu­ting inclu­ding devices such as sen­sors and actua­tors. The data streams pro­vi­ded by sen­sors require to per­form incre­men­tal rea­so­ning tasks. Research ques­tions remain on (i) how to embed rea­so­ning in devices with various capa­ci­ties, it requires spe­ci­fic opti­mi­sa­tions ; (ii) how to effi­cient­ly dis­tri­bute rea­so­ning tasks among devices.
Smart agri­cul­ture is a typi­cal appli­ca­tion domain of such WoT archi­tec­tures, where the sur­veillance of culti­va­ted fields requires various sen­sors that push strea­ming data, which must be col­lec­ted and rea­so­ned upon to take deci­sions exe­cu­ted by actua­tors. Smart buil­dings is ano­ther such typi­cal appli­ca­tion domain where added‐​value appli­ca­tion ser­vices involve other ver­ti­cals such as ener­gy mana­ge­ment, e‑health, or ageing well. We will define use cases and requi­re­ments for smart agri­cul­ture and smart buil­dings, run simu­la­tions, and then lead real expe­ri­ments.
The CoSWoT plat­form will fos­ter the decou­pling of the deve­lop­ment of soft­ware and the deve­lop­ment of hard­ware, so as to ease the emer­gence of a new eco­no­mic sec­tor in the digi­tal indus­try around WoT appli­ca­tions deve­lop­ment, dis­con­nec­ted from the deve­lop­ment of the smart devices them­selves.
CoSWoT is led by Frédérique Laforest, INSA Lyon. Partners are INSA Lyon, MINES Saint‐​Étienne, INRAE, Mondeca