---
Post-Doc
---
Research Internship position, Master II
---
Positions in the field of biomechanics and mechanobiology of aneurysms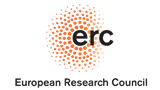 Thanks to financial support of the European Research Council, whose mission is "to support the best of the best in Europe across all fields of science, scholarship and engineering", the Center for Biomedical and Healthcare Engineering at Mines Saint-Étienne (France) invites applications to several positions at the postdoctoral as well as PhD student level.
Candidates with strong backgrounds in engineering mechanics, biophysics, biomechanics, and/or applied mathematics (as proven through an internationally competitive track record) are expected to strive for excellence and to enthusiastically cross the boundaries between traditionally separated scientific disciplines, namely engineering, applied mathematics and physics, as well as the life sciences.
Working in a most stimulating atmosphere, both culturally and scientifically, the successful candidates will earn internationally competitive salaries. Employment durations will vary between 2 and 3 years, extensions may be possible depending on the candidates' performance.
Review of candidates will begin June 15, 2015, until the positions are filled. 
Interested candidates should send a letter of application, curriculum vitae, and names and addresses of three references to Prof. Stéphane Avril, avril@emse.fr, Tel: ++33-4-77420188. 
Several offers with specific profiles are also posted above for interested candidates.