As a national higher education institute, Mines Saint-Étienne feels naturally vested with social and educational responsibilities
For more than twelve years, the École des Mines has been decisively committed to promoting scientific, technical and industrial culture and to fostering closer links between research and industry. At the same time, programs of scientific literacy dedicated to students from elementary and secondary schools were implemented and graduate — and doctoral-level students were involved into our policy of scientific culture that we consider both as a major community service in  return to the general public and a nice opportunity of cultural enrichment for all.
To achieve this ambition of becoming an important and original actor of the scientific culture, the École des Mines created "La Rotonde" in 1990.
La Rotonde is the only Science Center integrated into a graduate school of engineering in France. It is recognized as a laboratory of ideas and innovations which, by its multidisciplinary activities, helps to increase and enhance the ability of questioning in the field of scientific culture, in view of sharing knowledge, opening up and adaptation, and collective knowledge progress.
Creator of many scientific mediation tools, La Rotonde also works with students of the École des mines which, having the opportunity to become involved in actions between Science & Society, therefore have access to humanistic education, complementary to their scientific training for excellence.
The main tasks of La Rotonde
To be a cultural actor carried by cross-cutting themes, reinforcing the essential dialogue between Science and Society bringing closer "hard" sciences and social sciences.
To be a developer of the territory, implanted in the École des mines, with an original approach of upgrading research and understanding of industrial innovation.
To be a mediation center, open to all audiences (people, schools, associations…)
To be a producer of resources (multimedia, education, exhibitions, audiovisual…) and expertise, at a departmental, regional level, but also national, European and francophone scale.
For its actions, the French Ministry of Research and higher education has awarded in 2008 the label "Science and Culture, innovation" (SCI) at La Rotonde, for a 4 years period.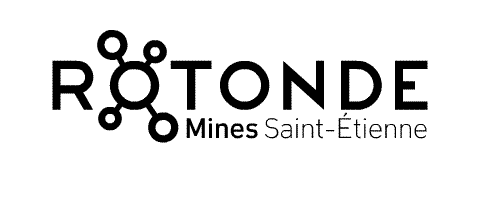 Website : La Rotonde
Contact
CCSTI La Rotonde
École des Mines de Saint-Étienne
158, cours fauriel
42023 Saint-Étienne cedex 2
Phone: +33 4 77 420 278
Mail: larotonde@mines-stetienne.fr
Open by appointment for school on Mondays, Tuesdays, Thursdays and Fridays, from 8.30 to 12 and from 14 to 18.
Open on Wednesdays from 14 to 17.30, by appointment for groups.
Closed for the summer holidays.